Friday, September 29, 2023, is a Professional Development Day for teachers! Students have the day off from school. Classes resume Monday, October 2, 2023.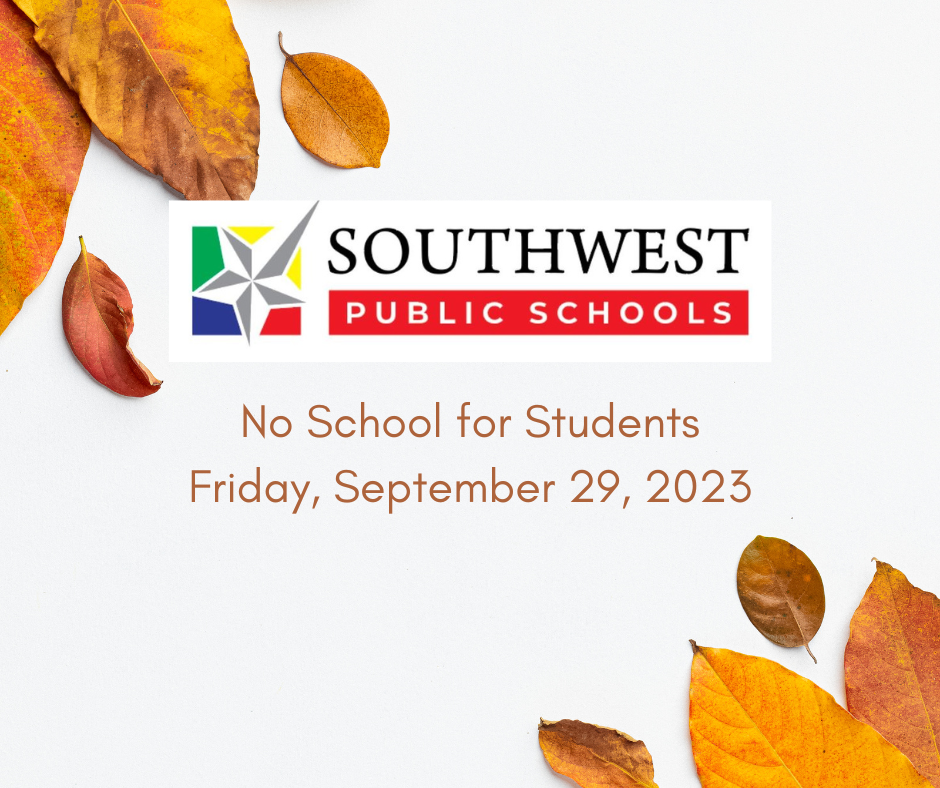 🌍 Hispanic Heritage Month is a time to celebrate diversity! From music to food, art to literature, let's explore the beauty of Latinx culture together. 🎶🍽️🎨 #HHM #LatinoPride 🌍 ¡El Mes de la Herencia Hispana es un momento para celebrar la diversidad! De la música a la comida, del arte a la literatura, exploremos juntos la belleza de la cultura latina. 🎶🍽️🎨 #MHH #OrgulloLatino
"Let's show our appreciation by sending a big THANK YOU to our HR team for all that they do. Drop a comment, emoji, or a shout-out to express your gratitude! 🙏👏 #HRProfessionalsDay #HRHeroes #EmployeeWellbeing #WorkplaceExcellence"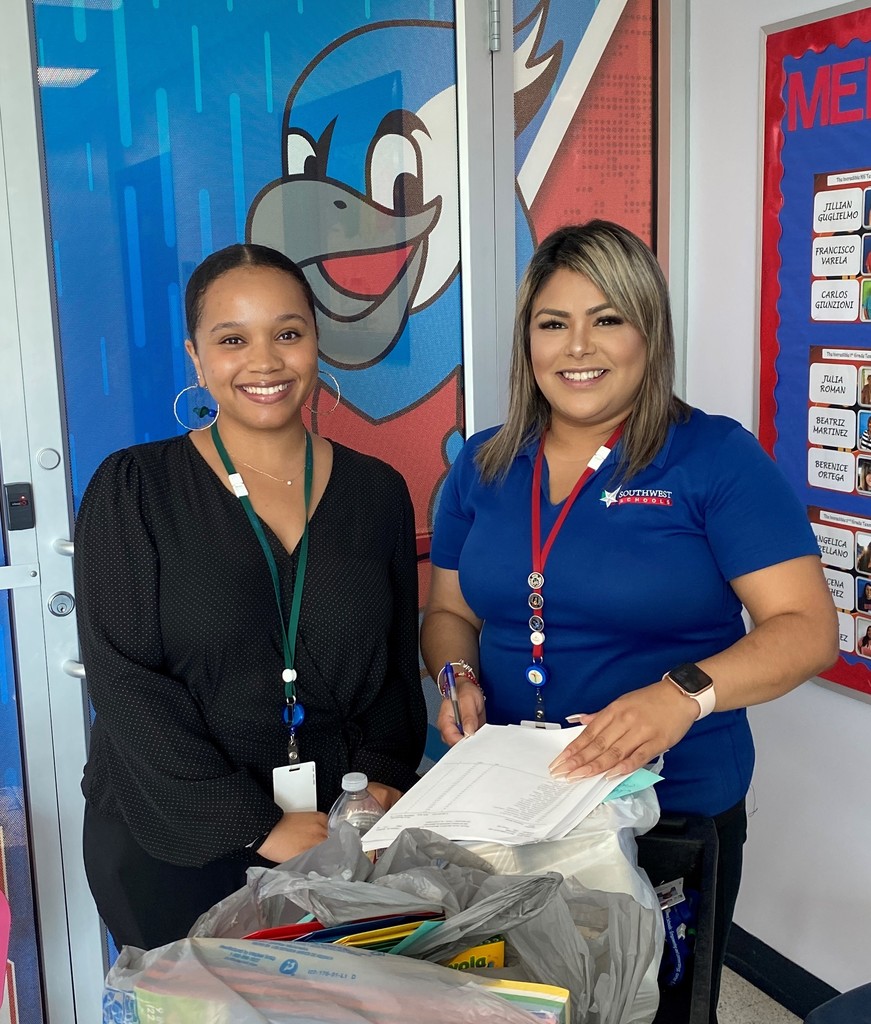 🎉 Happy #HispanicHeritageMonth! Let's honor the rich history, culture, and achievements of Hispanic and Latinx communities. 🌟 #LatinoHeritage #CultureMatters 🎉 ¡Feliz #MesDeLaHerenciaHispana! En honor a la rica historia, cultura y logros de las comunidades latinas.🌟 #HerenciaLatina #LaCulturaCuenta
No school - Fall Holiday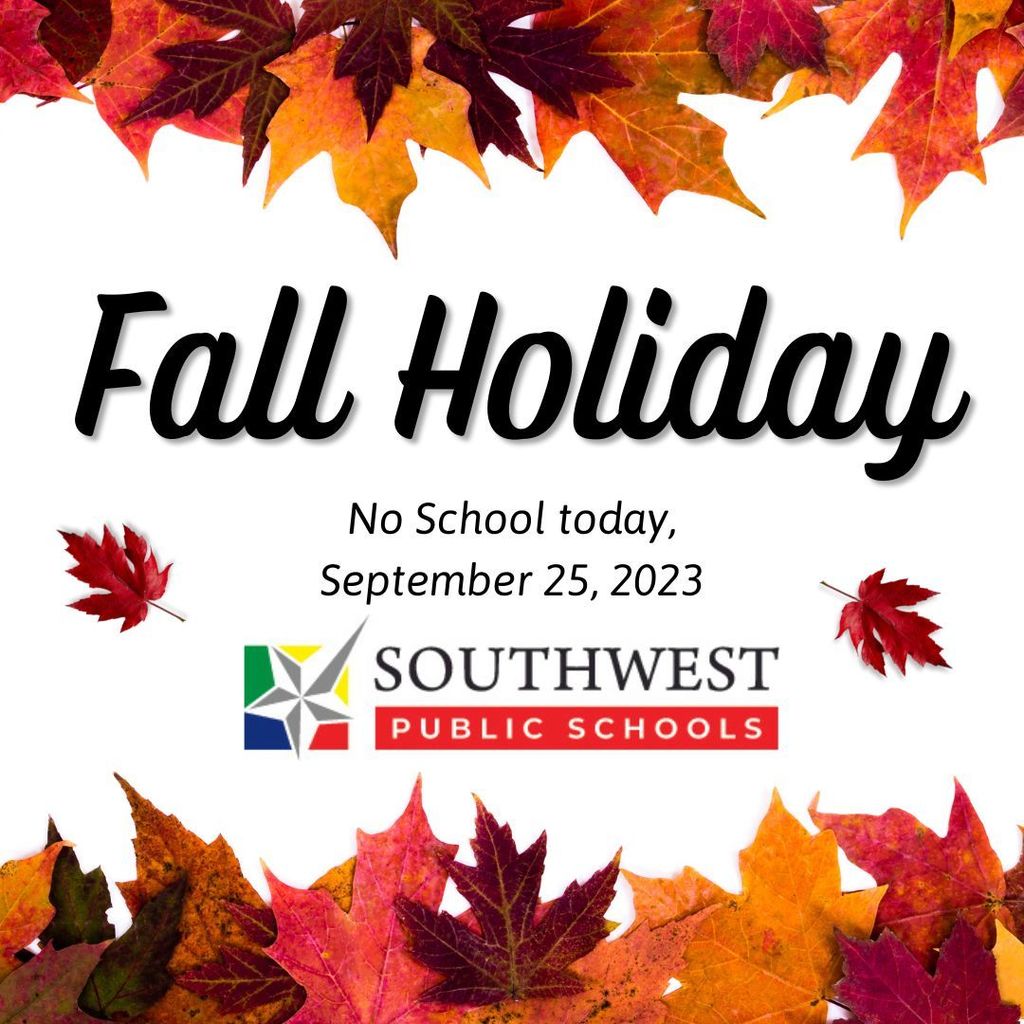 🌟 Six weeks of dedication and growth have led us to this point! 📈 Students, you've done an amazing job. Parents, your support is invaluable. Let's carry this momentum forward as we step into the next phase of learning and exploration. 📚💪 #SixWeeksAccomplished #StudentSuccess #ContinuedLearning
🕒 Today is Early Release day! Our students are dismissed at 1:00 PM to give our dedicated teachers valuable time for training and collaboration. #iamgoingsouthwest
Exciting News! SWPS partners with Houston Threads to launch the Grand Opening of our Mini Threads Closet! Our closet is sponsored and fulfilled by Houston Threads, a 501(c)(3) non-profit organization providing NEW clothing for youth! We will be open Tuesdays and Thursdays!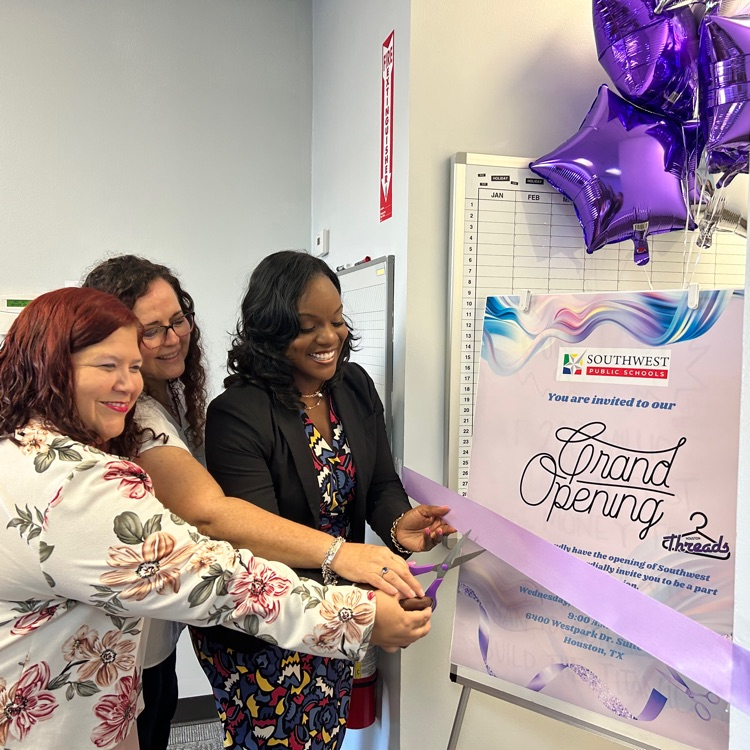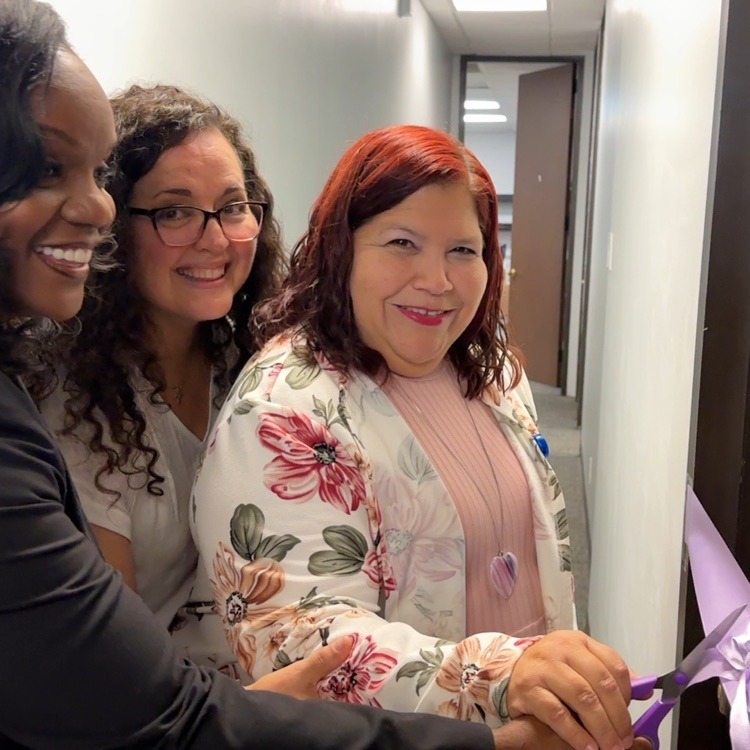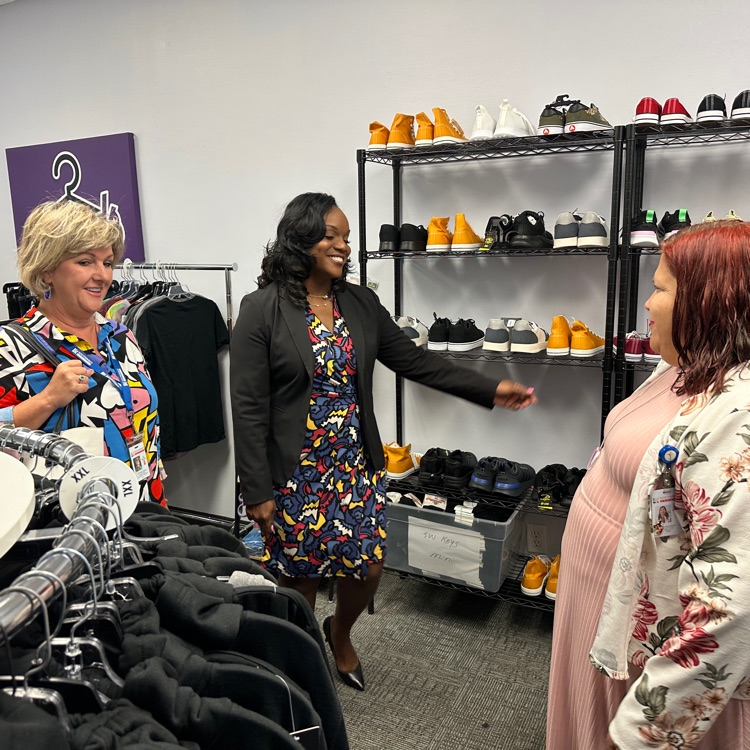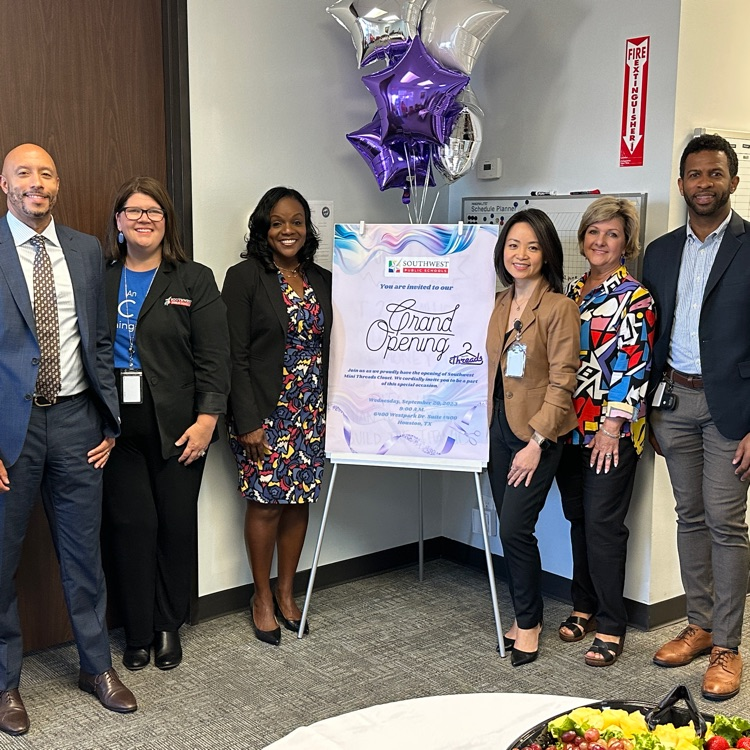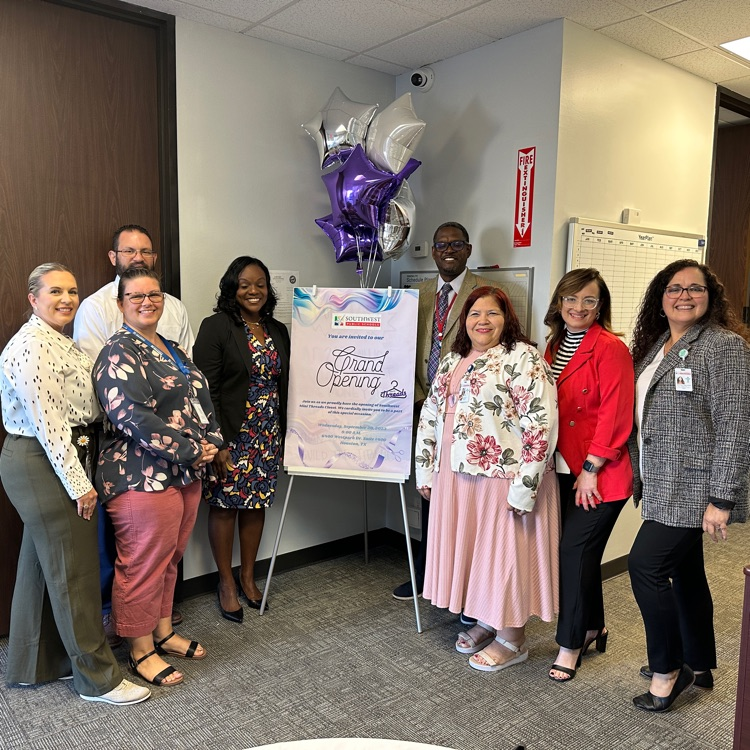 Hey Southwest Public Schools' family! Get ready for some well-deserved downtime because we have an upcoming fall holiday on Monday, September 25, 2023, and that means... NO SCHOOL! 🎉🏫
🎉 Heads up, students and parents! ⏰This Friday, September 22nd we'll be having an early release day! All students dismiss at 1:00 PM to support our teachers' professional development. 📚🌟 #EarlyReleaseDays #TeacherDevelopment #iamgoingsouthwest
🌟🤝 September is Friendship Month, a time to celebrate the bonds that enrich our lives! 📚🌈 At our school, we treasure the friendships that form within our community. Let's continue to cultivate kindness, understanding, and camaraderie as we learn and grow together. 💙📖 #FriendshipMonth #SchoolCommunity #BuildingBonds
Happy IT Professionals Day! Our IT Team plays a crucial role in managing and maintaining computer systems, networks, software, and hardware, ensuring that technology functions smoothly and securely. Thank you for all you do for Southwest Public Schools!
Southwest Public Schools is kicking off National Hispanic Heritage Month from September 15 - October 15, 2023!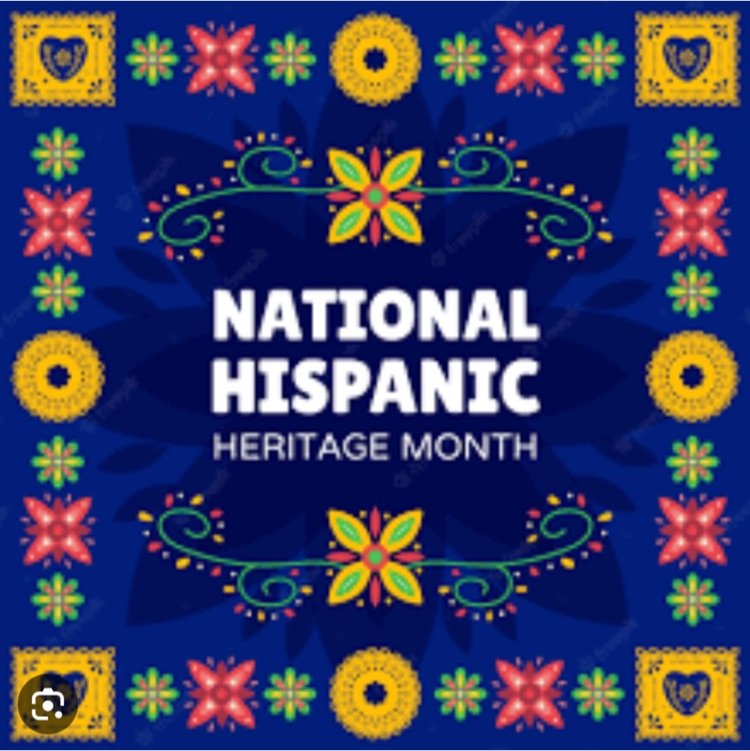 SWPS partners with The Houston Texans! Six home games at discounted price while supporting Southwest Public Schools! ¡SWPS se une con Los Houston Texans! ¡Seis juegos a precio de descuento mientras apoya a Southwest Public Schools!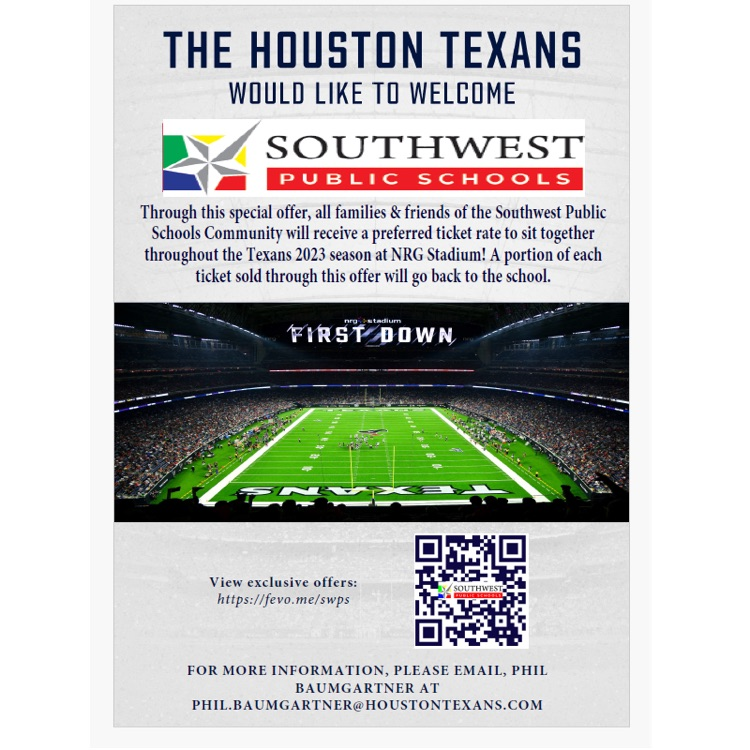 On this solemn Patriot Day, we remember and honor the lives lost on September 11, 2001. We stand united in remembrance, resilience, and gratitude for the sacrifices of first responders, survivors, and heroes. Let's also recognize the power of education in fostering understanding and unity.
⏰ Get ready for early release days! 📚 Starting September 8th, we'll be wrapping up school a little earlier to allow for teacher professional development. It's a great opportunity for educators to enhance their skills and provide an even better learning experience for our students. All schools dismiss at 1:00 PM. #EarlyReleaseDays #EducationMatters #TeacherDevelopment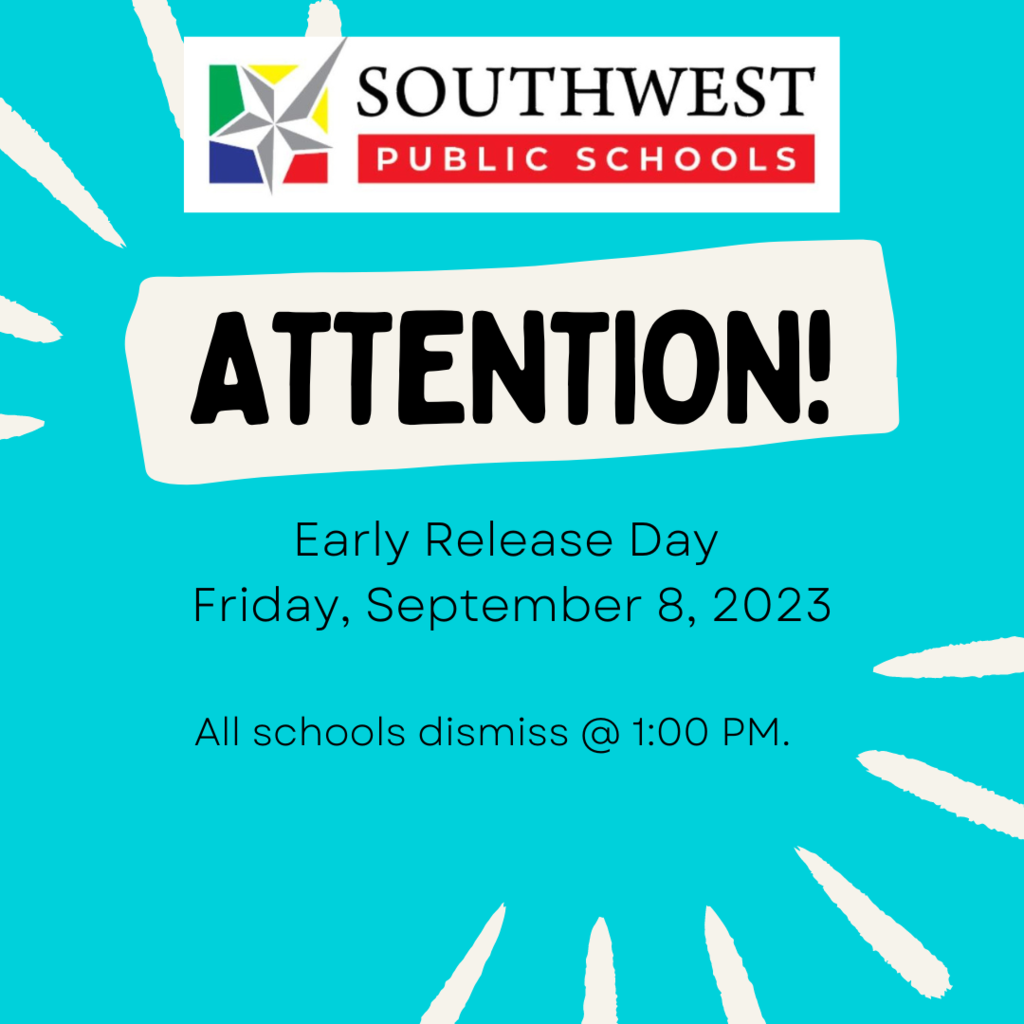 🩸 September is Sickle Cell Awareness Month, a time to educate, advocate, and show support for individuals and families affected by sickle cell disease. Let's spread awareness about this genetic condition and its impact on lives. Together, we can make a difference by promoting understanding, research, and compassion. 💙🌟 #SickleCellAwarenessMonth #FightSickleCell #CompassionInAction
📚🌟 Happy Read a Book Day! 📖 Whether you're exploring new worlds, learning something new, or revisiting an old favorite, today is a day to immerse yourself in the magic of reading. Let's celebrate the power of words to inspire, educate, and connect us all. Share your current read or a beloved book recommendation in the comments below! 🌈📚 #ReadABookDay #PowerOfReading #BookLoversUnite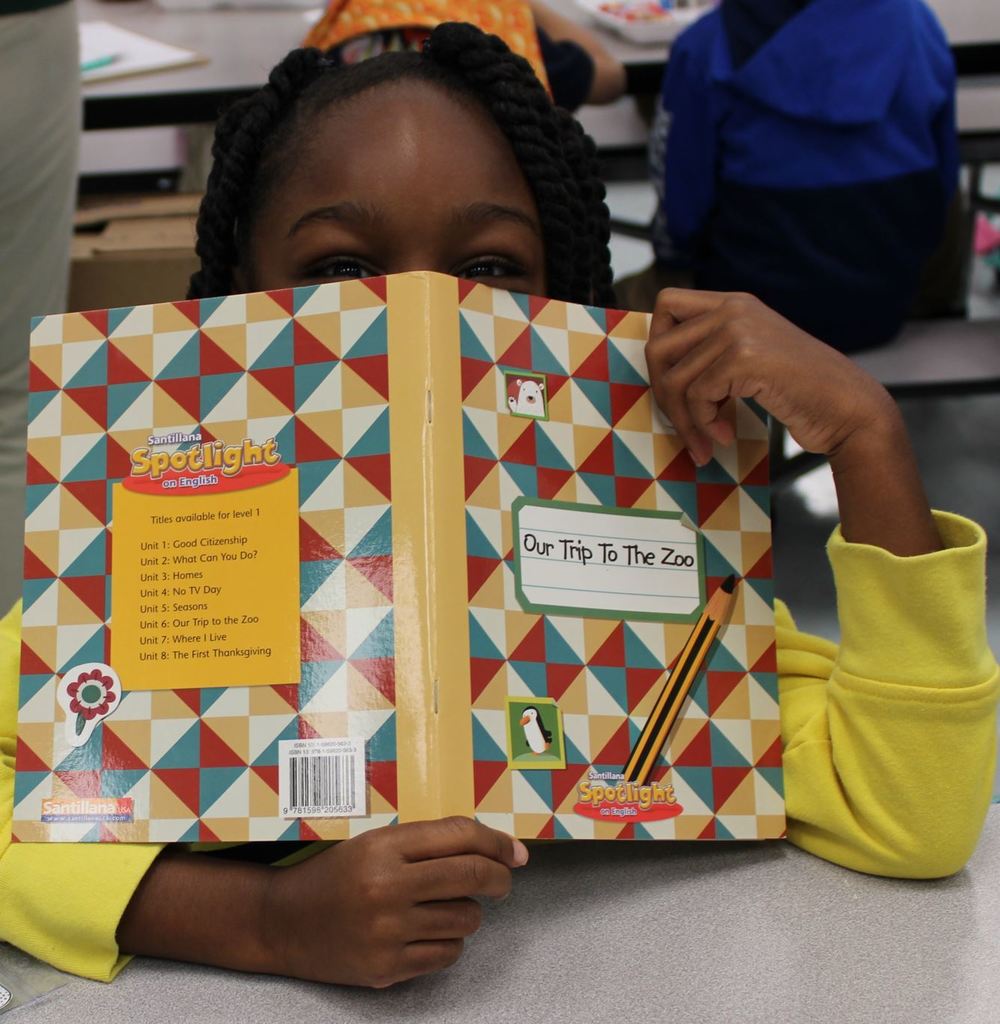 🏫🌟 September is Campus Safety Awareness Month, a reminder of the importance of creating a safe and secure learning environment for all. From preparedness drills to fostering a culture of respect, safety is a collective effort. Let's work together to ensure our campus remains a place of growth, comfort, and wellbeing. Share your safety tips or experiences in the comments below! 💙🔒 #CampusSafetyAwarenessMonth #SafeLearningEnvironment #TogetherForSafety
🌼 On this Labor Day, we celebrate the contributions of workers and the strength of our community. Let's remember that education is a powerful tool that empowers us to achieve our dreams. Wishing everyone a relaxing and joyful day! 🌟📚 #LaborDay2023 #DreamsAndEducation #CommunityBond