Southwest Eagles Varsity Team Crowned State Champions
The Southwest Eagles Varsity Team was crowned the Texas Charter Schools Academic and Athletic League State Soccer Champions on May 10, 2014.
The Eagles defeated Dallas area, 3-time champion Williams Preparatory in a thrilling penalty shootout game in Drippings Springs, Texas.
The Eagles entered the East Texas Regional playoffs in last place held at Bear Creek Park on May 3, 2014. Winning the Regional Championship capped off a long and arduous season and qualified them for the state championships where the top 4 charter school teams in the stated played an elimination round tournament in extreme heat conditions. Thanks to the support of sponsors Paul Grant and Lewis Senior of Equilibria , Coach Roberto Navas, Athletics Director Jesus Zepeda, and Principal Dr. Stephen Appea, the Eagles were able to accomplish their ultimate goal. School pride grew with hard work, training and humility that the players demonstrated during games. Student players had to earn and maintain high academic standards to be part of the team. Plans for the coming school year; train harder and smarter to continue the program's success.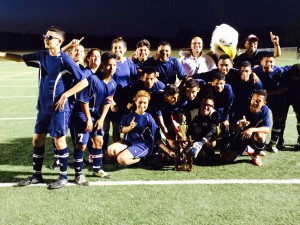 Southwest Eagles Varsity Championship Soccer Team